sports and
wellbeing
Sport is a vital component of our holistic approach to education and we encourage and educate students to lead a healthy lifestyle through active participation.
The Lego

®

Education Innovation Studio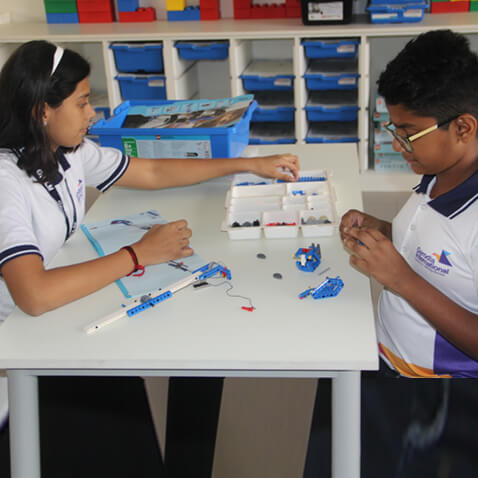 The engineers, designers and scientists of tomorrow need a hands-on science education today. All over the world, LEGO® Innovation Studios or LEGO® Labs help children engage in creative and active learning. The LEGO® Lab is the first to be set up in a school in India. As an extension of the STEM programme, the LEGO ® Lab will be a part of the students' engagement from Early Years through to High School.
Our
infrastructure
Apart from a Production Studio, a Multipurpose Hall, a Cafeteria and a dedicated Soft-play area for our Early Years students, the state-of-the-art building has other amazing facilities.
facilities
facilities
Modern Home Rooms

Our impeccably-designed classrooms encourage teamwork, and the exploration of contemporary curricula including STEM and STEAM subjects.

Laboratories

Our science laboratories are modern, state-of-the-art spaces, designed and assembled by Hohenloher, a German company.

Visual Art & Design Studios

We have two Visual Arts Studios for the Primary and the Secondary. Our Design Studio lets students explore design through technology.

Learning Centre

Our extensive Learning Centre has a wide range of books, other media and learning resources as well.

Rooftop Swimming Pool

The half-Olympic-sized swimming pool is equipped with the best hygiene and safety equipment.

The School as an ICT Lab

Our buidling is one large digital lab, with tablets in classrooms, and a policy of bring-your-own-devices for higher classes.
2019—2020
School Calendar
Essential
Parental Information